Experience the difference with this ultra-fast compact printer that really delivers.
High Productivity for Any Workplace
Print speeds at 120 pages per minute in full color, duplex scanning and a rich feature set in a slimmer footprint.
Superb Efficiency for High Volume Printing
High quality output combines with outstanding flexibility for cost-efficient in-house printing.
Excellent Usability for Every Work Environment
Easy to use intuitive interface and simplified management and maintenance tasks ensure speedy workflows and reduced downtime.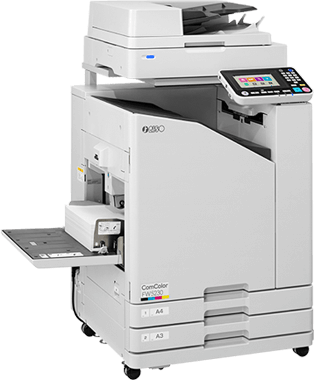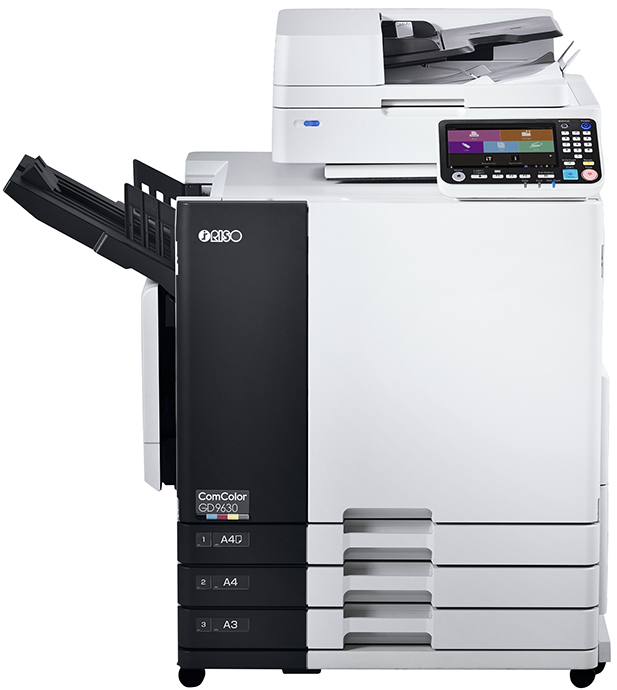 Designed for Speed, Stability, and High-volume Production Print Jobs
Engineered to empower your business with high volume, reliable, quality output. Transform your printing with the ComColor GD.
The FORCEJET™ Advantage
RISO's high-speed inkjet technology, FORCEJET, consists of wide, color, in-line inkjet print heads arranged in parallel for single-pass printing of black, cyan, magenta, yellow and gray on A3/Ledger short-edge feed paper. Fast printing functionality combined with a rapid and stable paper supply results in a print speed of 160 pages per minute for A4 long-edge feed, in simplex literally the fastest* in the world.
Stabilized Paper Feed
A straight-path feeding system feeds paper horizontally to enable high-speed printing with minimal print offset. FORCEJET technology ensures optimal paper feed speed that is matched to the amount of ink being sprayed from the ink heads.
High-speed Printing Ink
RISO's proprietary FORCEJET™ technology offers heatless imaging resulting in outstanding performance. Minimal moving parts and impeccable engineering can handle the demanding needs of high production environments.
Eco-Friendly
Special quick-drying, oil-based pigment ink developed exclusively for the ComColor GD series prevents reverse-side staining of printed paper as well as cockling, to allow for unprecedented high-speed duplex inkjet printing. The ink is also resistant to degradation from light and water.
Questions?
Please contact First Choice Business Solutions for any questions about your Riso Production Inkjet Printer options! We are always happy to help save you time and money! (570) 569-2071
Contact Us